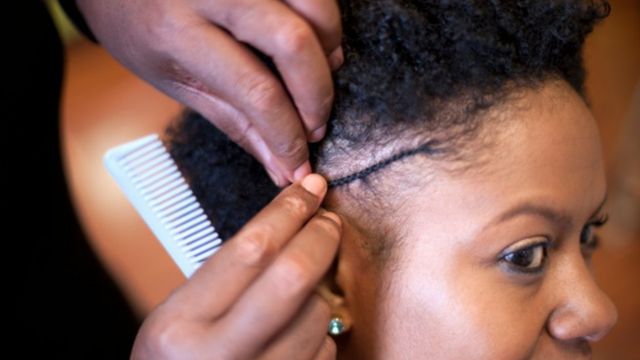 Hair is a big part of who we are, and our efforts to keep it clean and groomed have created an estimated $80 billion hair care industry.
This industry offers us many products that they say are created to keep our hair looking healthier, shinier and healthier.
But what is healthy hair? Isn't hair, straight, curly, long or short, just dead protein?
The hair is a filament with a cylindrical structure that grows on the human scalp and is divided into two parts: an internal part composed of the root and the follicle and an external part, the rod-shaped filament which is the visible hair itself.
'The filament is not really a living material,' Dr Sharon Wong, a dermatologist specializing in scalp and hair disorders, tells the BBC's Crowdscience programme.
"Technically we have a live part, which is the follicle, and then basically we have the dead part, which is the fiber that comes out of the scalp, and that's what matters so much to us."
The hair follicle is a tube-like depression in the scalp that encloses the root, where hair growth begins.
Each hair has its own follicle, which varies in depth.
"Each of the hair follicles in our body – we have about five million of them – undergoes a hair growth cycle and is an independent process from its neighbor," explains the expert.
"That's why humans don't have synchronized hair growth. As humans, we don't all seasonally lose our hair at the same time."
One of the truly amazing things about the human body, says the expert, is the fact that the follicle has this ability to keep regenerating itself so that every time a hair naturally falls out, it's replaced by another.
If we zoom in on a filament we will see that it is a tubular structure whose lower part is the bulb of the hair follicle, which is called the dermal papilla.
Further up the hair follicle are pockets of stem cells that send daughter cells to the bottom or root of the follicle and it is these that will cyclically tell the follicle to bring out the strand.
"We all have a genetically predetermined length of this hair growth cycle that can range from two years to about seven years," says Dr. Wong.
"That's why some people can only grow their hair to their shoulders and others can grow it to the floor."
But once the growth or anagen phase is over, the hair follicle enters a sort of pause phase where strands simply stop emerging.
And then it enters the resting or telogen phase, during which hair begins to fall out and the growth phase begins again.
What is Healthy Hair?
But while hair isn't biologically a living structure, that doesn't mean there's no difference between healthy hair and unhealthy hair, as dermatologist Sharon Wong points out.
"If you look at an intact strand under a microscope, you can see that the outer layer, which is the cuticle, looks like a very tightly structured, smooth, flattened texture of hair. It's a protective layer on top of your hair, against things like heat and the chemicals.
"Because over time, with excessive exposure to UV rays or other factors, the cuticle becomes damaged, and when you look at a damaged strand, you see a cuticle that doesn't look flat and clean, like it has scales."
And a damaged cuticle makes the strand more porous, meaning chemicals, heat, and damage can reach the core of the hair and weaken it from the inside out.
This can be seen in the ends of split hair, or when the hair becomes more brittle and brittle or loses its color.
So what should we do to keep our hair structure healthy? If we should stop using hair dryers and straighteners, we asked Dr. Wong.
"It actually has more to do with the temperature of these devices and also how often you use them," she says.
"For example, if you use a straightener to straighten your hair, ideally the heat should be below 180C because beyond that you really start to denature or damage the proteins, and remember your hair is 90% protein."
"But if you use it two or three times a week and do it continuously, it becomes cumulative damage and then your hair becomes much more brittle."
Washing frequency
As for shampoos and conditioners, how often should you use them?
"The purpose of shampoo is to cleanse the scalp and ensure that there is an established foundation for healthy hair growth," explains the dermatologist.
"The conditioner is intended for the strand itself, to nourish it and prevent the hair from drying out.
"When it comes to how often you wash your hair, there is no one-size-fits-all solution, it basically has to do with how clean your scalp is and whether you have a specific ailment affecting it.
"If you're someone who has a very oily, oily scalp, you may need to wash your hair every day. And if your scalp is very dry, washing it daily may not help."
The ideal is to find out what's best for everyone's scalp, specifies the dermatologist.
"It also depends on your lifestyle or if you use a lot of hair products, so I'd ideally recommend washing it off at the end of the day," she adds.
[ad_2]