[ad_1]

Our readers are Facebook users
You can now follow the latest news for free via our Facebook page
Click here to subscribe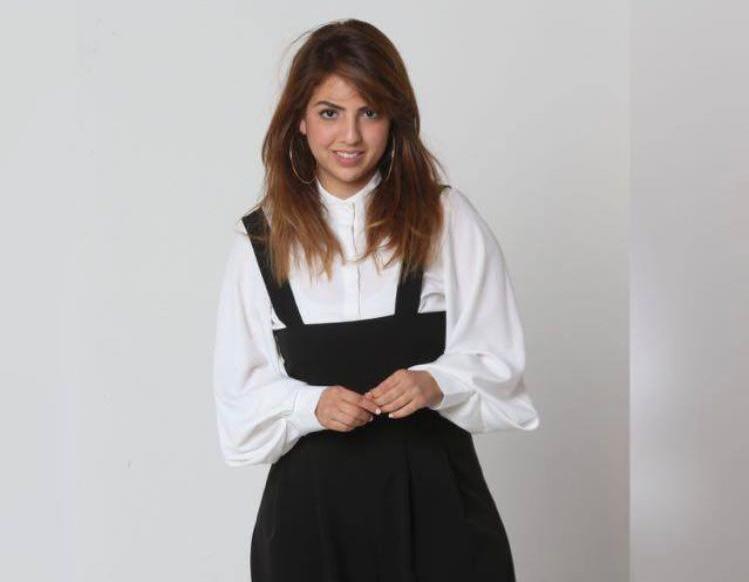 Ouday Cohen
Elaf: Have you ever gone shopping and found a piece that you really liked, but wished the sleeve or collar design was different, or maybe you liked the whole design, but the colors or the type of fabric did not suit you, and yet you bought it reluctantly? Have you ever wanted to become a fashion designer, but life took you on a different path? Are you looking for an additional source of income and don't know where or how? Now it's possible to change all that thanks to the clever "Anywear.Online" app created by Israeli entrepreneur "Adi Cohen". In 2016, with well-known think tank Lior Soshard as an investor and co-founder, it enabled women to design their own clothes virtually and to each client's personal measurements.
The company was named one of NYU's Top 10 Companies in Artificial Intelligence. And at the beginning of the epidemic, the company led the well-known project "Banding Together", which gained international fame and was covered by such magazines as "Vouge", "GMA" and "People magazine".
Elaf caught up with Adi Cohen to share with readers his story that began with a childhood dream of "becoming a fashion designer." But growing up, she discovered that dreams always collide with reality: "I realized that this dream is shared by almost every other woman in this world, and that my opportunity as a designer is to try to compete with Big companies are gone.
She continues, "A lot of my schoolmates studied fashion design and graduated from colleges as designers, but ended up as bankers and waitresses, not fashion designers."
Connecting the past to the present to change the future of the fashion industry
Uday thought of linking the past to the present in order to move towards the future: "Since the beginning of mankind, clothes have been produced on demand, such as tailoring for the customer, making clothes according to the customer's measure and taste (Tailor Made), but over the years, the fast and cheap fashion method came, and the goal was to produce "Trendy" clothes quickly and cheaply to push consumers to buy the more models, designs and accessories that you see in fashion shows, especially T-shirts and pants in different colors and at low prices, due to the cheap fabric used.
This development, while suitable for the general public, has negative aspects, says Cohn: "Although fast fashion makes clothing cheaper, workers in fast fashion-affiliated factories are negatively affected. Reports have shown that workers work long hours to fulfill orders." Retailers, with a low pension, using toxic raw materials, easy to produce and based on petrochemicals like polyester and acrylic, which greatly increases the pollution rate, and some claim that it comes after oil.
The coin has lost its value
Uday says, "When I was young, my family imported dresses from France, and each dress looked like Disney dresses and made me feel like a princess. been made of high-quality natural materials and meticulous details, and now the quality of the dresses has become at its lowest level, as well as our self-image.
Our clothes are our story
Her comparison of the realities of the fashion world, past and present, leads her to an important conclusion: "The first thing everyone does when they wake up in the morning is get dressed. Our clothes are our history. In the ancient culture, when the differences between cultures were more distinct, traditional clothing was more common Self-confidence and self-image were more clear and high, so I realized that to disrupt the fashion industry as we know it today, we have to go back to the origins and start producing in very small quantities for a product.
Artificial intelligence in fashion design
Working with a specialist team, Adi Cohen has developed technology that allows everyone to design their own clothes, without the need for a fashion designer, and the system is based on artificial intelligence that tells each person with the with the help of a robot designer at their convenience, and thanks to three-dimensional technology and in a fun way, everyone can move the robot as they see fit and choose the handles they want, the appropriate cut and color, the type of fabric, the type of neckline, the type of back opening and much more.
And after the user designs their dress, they get the same design with their name on it, which gives the user an emotional value for the dress, and the first thing the customer does when they receive the dress is take a photo of him with it and upload it to social media because it was created by him and he is proud of it, and after that the same user can open an online store through the same app and start selling your creations to other users. After the order arrives, just as the nearest Uber drivers receive the order through the app, the design execution order is received by all nearby tailors and studios, and these tailors are rated by users. themselves as well as production prices.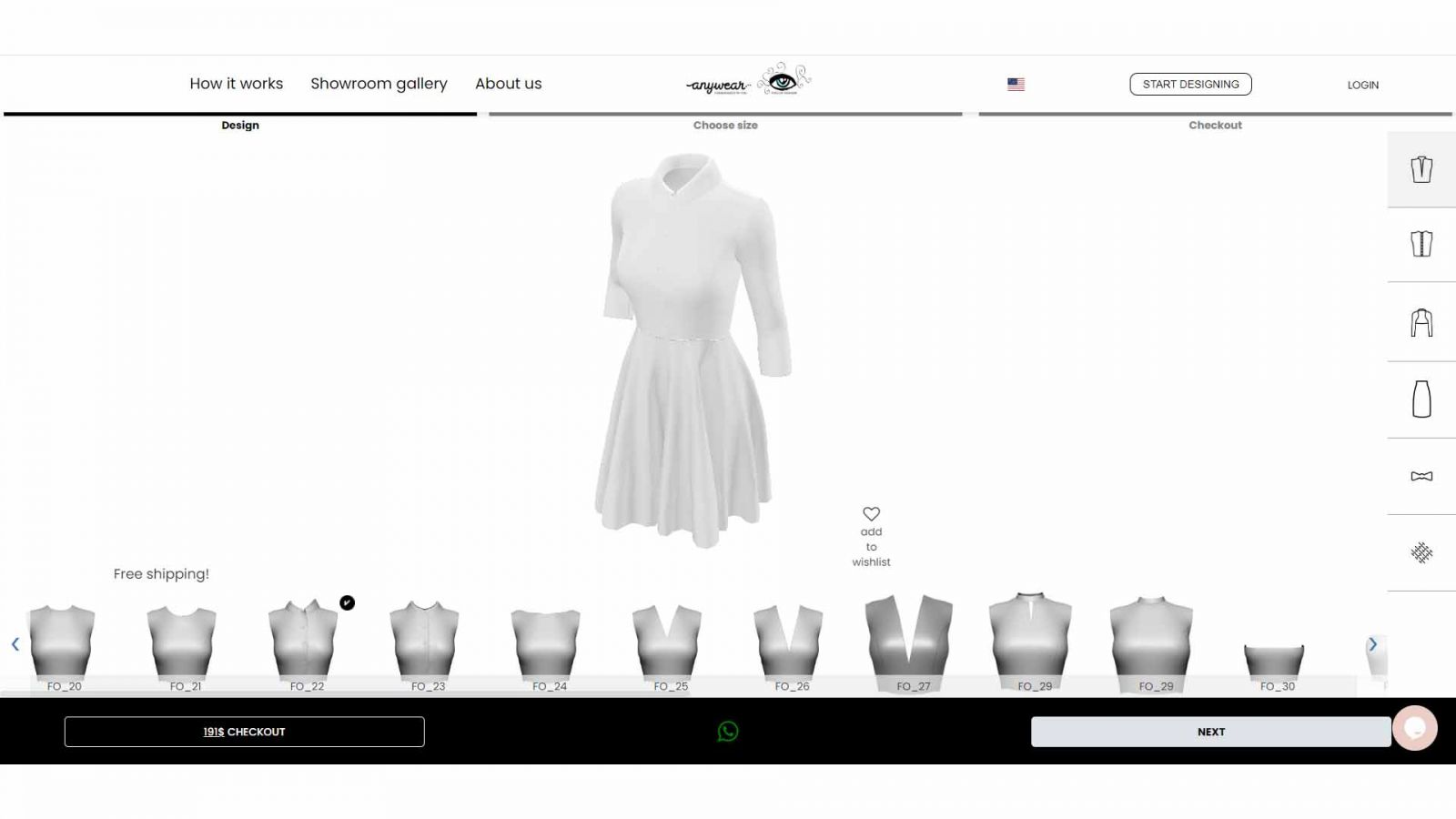 An image of the application for the design phase
"A few decades ago, we could not have imagined that in a few years people would be able to send emails and print letters. It is also difficult and almost ridiculous to think that in a few years we will be able to print our clothes at home, and here we are," says Adi.Our technology becomes relevant.
If we're all going to print our own clothes at the local digital lab or at home, why can't we design our own? When I realized that, I realized that everything had to be virtual, and we built a 3D machine that renders the files in real time and allows the customer to disassemble the garment into infinite particles and reassemble them, thus feeling the design and the freedom to choose exactly what works for me.
A self-propelled project
And about the launch of the project, she says: "After developing the technology that we embarked on to prove the feasibility with Allure magazine, we worked with 9 influencers with hundreds of thousands of followers, and each of them designed their own group, some of them designed hijabs, hair bands, masks, and more, each of them designed the product themselves, and everything was implemented. "Something with digital printing, they sold the same models to their audience, and what's interesting is that once an influencer markets their product, the marketing effort that you put into advertising the product is far more important than anything else, the product they advertise is their own product, for him, in two months, we have sold products for hundreds of thousands of dollars.
Investing in the future of the industry
Uday's dreams that led her to create a smart innovation that allows everyone to make their own clothes or create their own fashion line and establish their own personal boutique with the help of tailors affiliated with the application that work from home and eco-friendly fabrics, and with designs that are suitable anytime and anywhere that circumvent all the drawbacks of the retail industry as we know it today . This idea is in its early stages of growth, and for it to grow and continue, it needs to pump in more money and investment, and about that she says, "We're sure the world is heading towards privatization with or without us, and we are currently looking for investors to offer them a job opportunity to participate in the reformation of the world and make it cleaner and better." And also an opportunity to participate in the new future of the world of the fashion. "


[ad_2]

Source link